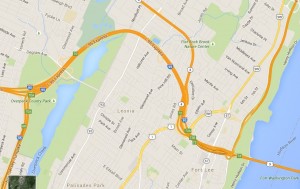 Robinson is a Disadvantaged (DBE), Minority Owned (MBE) and Small Business Enterprise(SBE) certified firm.
Our firm is obtaining digital imagery of the NJ/NYC approach to I-80 and I-95 at a specified "rush hour" time frame.

We are using one helicopter maintaining a fixed-position over one mile above the Bergen County survey area, proposed as approximately 3 x 1.5 miles, and a 3-camera "WAV" camera system acquiring 1-second time-lapse aerial photographic coverage (1-sec. TLAP). The coverage period has been from 7-9 a.m. The resolution has been such that vehicles throughout the entire survey area can be counted or traced from origins to destinations.